'On target' with the Blue Mountains TEAR Group
By Jasmine Wrangles, Lead Community Organiser (NSW/ACT).
On Saturday 27 April the Blue Mountains TEAR Group was on point – that is in full gear with their very own life-size Australian Aid 'target'! I had travelled up from Sydney to join them and together we were ready for conversations with the community on Australian Aid at Springwood's annual Foundation Day.
Springwood's Foundation Day is an impressive community affair and it seems that everyone gets involved. The main street in Springwood lines up with stalls from delicious food to handmade products, and alongside local performances it's quite the place to be!
The key feature of the Blue Mountains TEAR Group's stall was a life-size Australian Aid target, inviting people to guess how much the federal government provides in Australian Aid as a percentage of Gross National Income (GNI). When asked, members of the public were given a pin and placed their guess on a ring in the target. The various options in the rings ranged from just 10 cents out of every $100, to $7 and $15 as the highest options.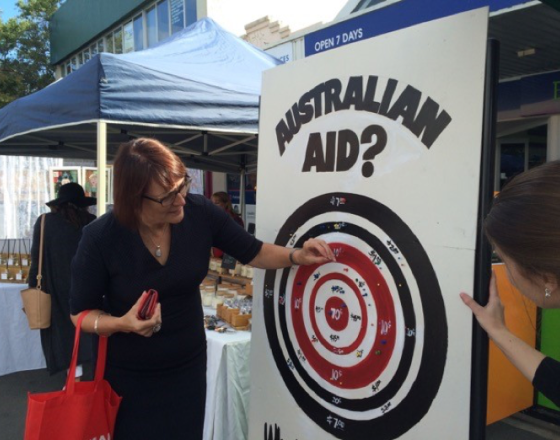 It was fascinating to see the responses! The community's answers varied with many recognising we're not very generous and guessing the lowest option of just 10 cents, to others taking a more generous guess that we give $1, $2 or even $7 or $15 of every $100 of GNI to Australian Aid.

After people made their guess, they could see walk around to back of the target and see the correct answer. "Currently we give just 22 cents in every $100 to Australian Aid," I explained, "It's currently at a historic low. Never before have we given so little." In most cases people were surprised to learn this and agreed we should give more to help those living in poverty around the world.
It was a fantastic day engaging with the local community through over 100 conversations. We were also encouraged when local MP Susan Templeman dropped in and could see firsthand the engagement in the electorate around the issue.
Well done to Paul, Ann, Joz and the whole Blue Mountains TEAR Group – your creative approach was 'on target'!

* Captions correct at time of writing.
Be part of a
community
that embodies justice. Join or start a Tearfund Group today.
Tearfund Groups are a great way to connect with people who share your passion for achieving justice and ending poverty.
Connect
---